Wildland Urban Interface & Mitigation Strategies
Every year, wildland fires destroy structures in the Wildland Urban Interface – defined as the line, area, or zone where structures and other human development meet or intermingle with undeveloped wildland or vegetation fuels. In 2021, according to the National Interagency Fire Center, a total of 58,733 wildfires across the country burned 7.13 million acres and destroyed 5,972 structures. Studies show that many of the structures lost to wildland fire may have been saved if flammable vegetation was cleared and defensible space was created around structures.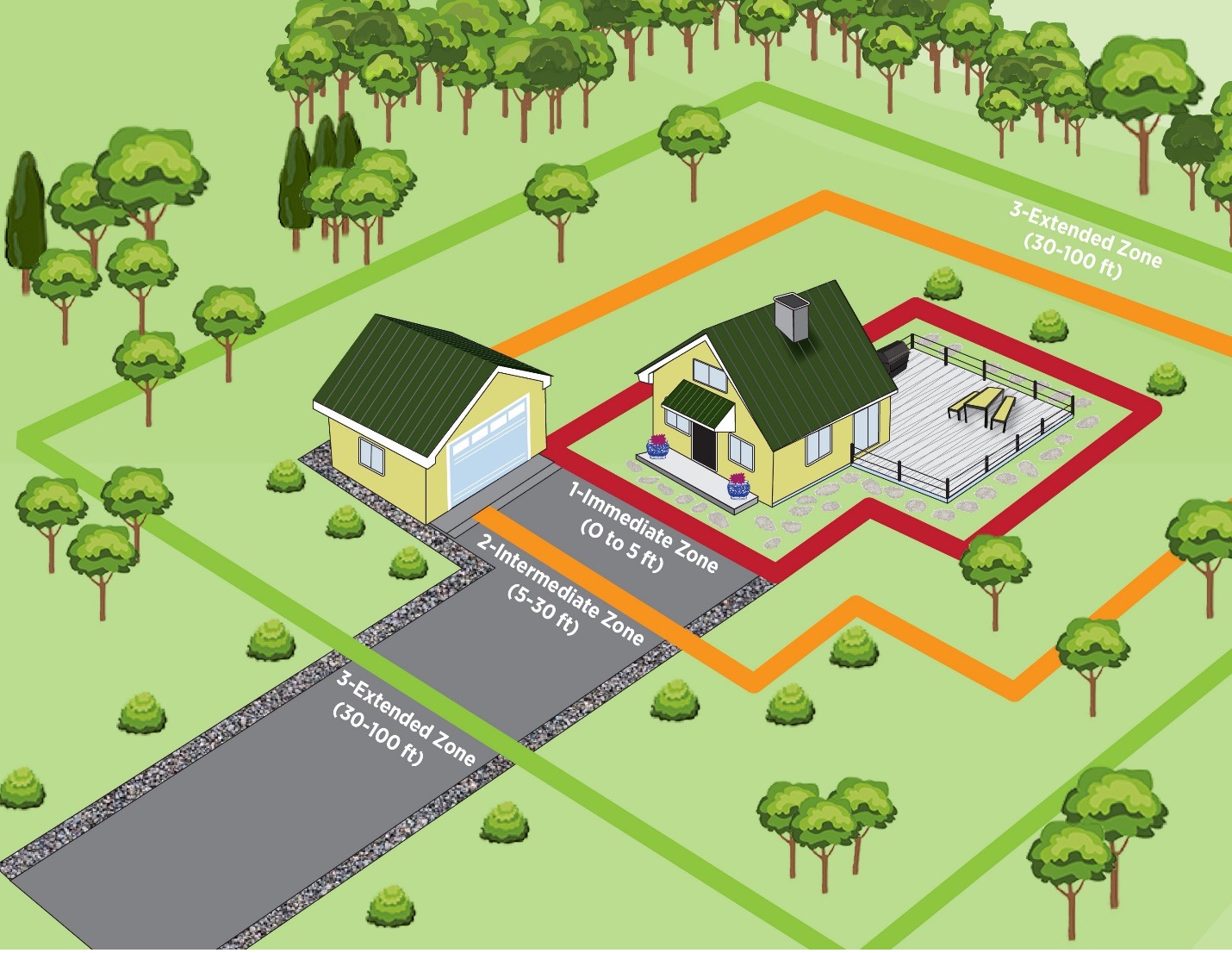 According to Firewise USA and the National Fire Protection Association, there are three ignition zones located around a structure where flammable vegetation mitigation and defensible space is most important. The zones include the Immediate Zone (0 to 5 feet), the Intermediate Zone (5 to 30 feet), and the Extended Zone (30 to 100 feet).
The main objective of the Immediate Zone is to reduce the potential that embers landing near a building ignite fuels and expose the structure to a direct flame. Mitigation strategies within the Immediate Zone (0 to 5 feet) include eliminating flammable mulch (use crushed stone or gravel instead), removing woody plants/trees, keeping lawns green/mowed, and removing dead vegetation/debris.
Within the Intermediate Zone (5 to 30 feet) mitigation strategies include removing vegetation under trees, pruning branches of mature trees up 6 feet from the ground, keeping grass mowed to a height of four inches, ensuring that the canopy of mature trees is no closer than 10 feet to the edge of a structure, and clustering trees/shrubs to break up the continuity of the vegetation across the landscape.
Extended Zone (30 to 100 feet) mitigation strategies include disposing of any heavy accumulation of dead ground vegetation, removing small conifers growing between mature trees, and thinning mature trees to have 6 feet of clear space between canopy tops. Where ignition zones overlap with adjacent properties, it's important to work collaboratively with neighbors to reduce their shared risk.
In many jurisdictions, property owners can request a fire-risk survey of their property from their local forestry or fire agency to gain guidelines that prepare their property for wildfire resiliency. 
---
About the Author
Nels R. Peterson, P.E., M.S.C.E. is a Consulting Engineer in our Seattle-Tacoma Office. Mr. Peterson provides consultation in the areas of structural analysis, scope of damage, cause of damage, and water intrusion investigation. You may contact Nels for your forensic engineering needs at npeterson@edtengineers.com or (253) 345-5187
Learn about how EDT Forensic Engineering & Consulting approaches damage assessment to commercial and industrial incidents and forensic engineering by assigning a file today.
Tags: