The Third Option
When obsolete electronic equipment is damaged and an insurance claim is filed, repair proposals generally focus on one of two options:
Replacement of the damaged parts within a component.

Replacement of the major components.
Replacement of the parts that were damaged within a particular component should be the first choice. However, replacement parts for obsolete equipment may not be available, resulting in a need to replace the entire component. However, due to incompatibilities with newer equipment, replacement of damaged components often requires a complete system modernization, not just replacement of the components that have been damaged. As a result, the cost of repair can be much higher than the initial expectation.
For example, EDT was asked to review a proposal to replace a fire alarm system in a large multi-story hotel. The existing fire alarm panel had been damaged when a worker made a wiring error while connecting a new HVAC component to the fire alarm system. Because the fire alarm system had been manufacture-discontinued for many years, replacement parts were not available. Furthermore, no new fire alarm panels supported the embedded base of smoke detectors, strobes, and other devices. As a result, the fire alarm service company recommended a complete system replacement, including a new fire alarm panel and all new detection devices. The replacement system was expected to cost tens of thousands of dollars.
While reviewing the repair proposal, EDT confirmed that replacement parts were not available and that no new fire alarm panels supported the existing smoke detectors. Because replacing the entire system was very expensive, and no reconditioned or used parts could be located, EDT began to investigate a third option.
The Third Option: Repair the Damaged Electronics
EDT examined the damaged fire alarm printed circuit board and found that the damage was limited to a small area of the board, with a single component exhibiting visible damage (Figure 1). EDT contacted the technical support team of the manufacturer and discussed the damage on the fire alarm board and options for repairing it. Because the damage appeared isolated to a small area of the board, and because no damage was observed to the printed circuit board traces, the technical support team agreed to attempt a repair of the board. EDT arranged for the board to be removed and shipped to the manufacturer for repair. The repaired board was returned within a week and was placed back into service. The cost of the repair was about 5% of the cost of a complete system replacement.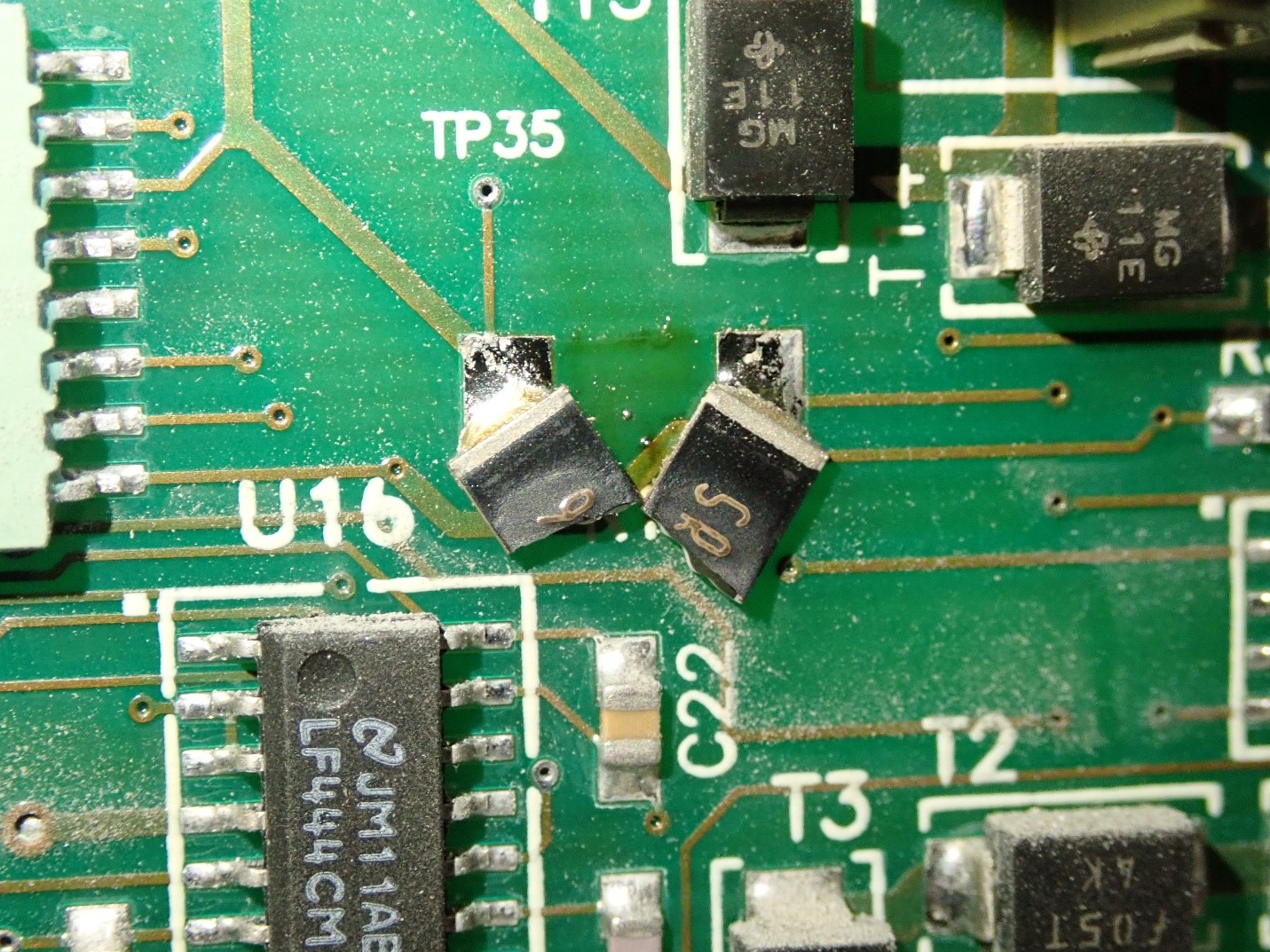 In summary, by examining the damage to an electronic component and working closely with a manufacturer, repairs to obsolete equipment may be feasible. This approach can result in significant cost savings by eliminating the need to replace entire systems when moderate damage to a single component occurs.
---
About the Author
Jimmy H. Beard, M.S.E.E., P.E., CFEI is a consulting engineer with our Birmingham Office. Mr. Beard provides consultation in the areas of cause and origin analysis of electrical system failures; scope of damage and analysis of costs to repair or replace electrical equipment; and engineering consultation related to fire investigation. You may contact Jimmy for your forensic engineering needs at jbeard@edtengineers.com or (205)838-1040.
Learn about how EDT Forensic Engineering & Consulting approaches construction assessments, scope of damage, and forensic engineering by assigning a file today.
Tags: